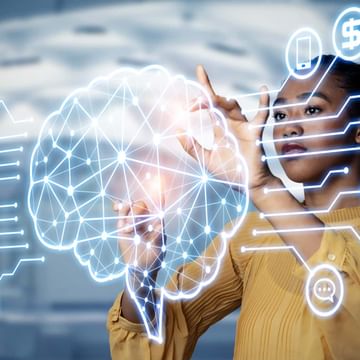 The Age of AI
Your guide to the next generation superpower

Johan Hagstrom
Johan Hagstrom, Civil Engineer and Data Scientist
Secure your place
Step into the brave new world of AI
From Apple Pay's face ID and self-driving cars, to fraud prevention, patient diagnosis and space navigation, Artificial Intelligence is powering advancements in all walks of life. By harnessing advances in computing power to analyse and interpret vast quantities of data, AI is helping us to spot patterns, speed decision making and learn more. The age of AI has arrived and its impact is profound.
As it transforms the way we live our lives now, AI is also an invaluable tool to help us meet the challenges of the future. Today's students will soon be tomorrow's scientists, engineers and entrepreneurs, tackling the challenges of climate change, energy consumption, sustainable development and data security. The ability and vision to apply the power of AI in their chosen sector will be highly valued.
Specifically designed for teachers, our workshop provides a fascinating insight into AI and its current and future applications. It will explore AI's significance and what this means, both for students as they plot their careers in industries where AI will play an increasingly prominent role, and for educators who are committed to preparing young people for the future of work.
Professional Insights
Get an expert, insider's guide to the world of AI, present and future
AI for the next generation
Tips and advice on giving students the tools and inspiration to pursue STEM careers
Insider Advice
Gain first-hand insight into the career prospects for young people with AI skills
Live Q&A
Our AI expert is ready to answer your questions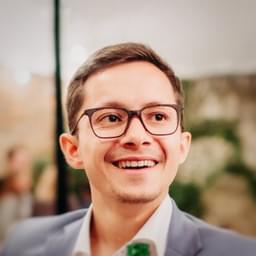 Meet our guest expert
Johan Hagstrom
Johan Hagstrom, Civil Engineer and Data Scientist
Johan graduated from the University of Warwick in 2013 with the highest ranked civil engineering degree of his year. As a civil engineer with global engineering consultancy, Mott McDonald, he has worked on some of the UK's largest construction projects including Crossrail, the Northern Line Extension and HS2. Johan now works as a data scientist using AI to help businesses tackle their biggest challenges. He has a love of solving complex problems using the latest technologies and a passion for sharing the potential of AI.
/

What to expect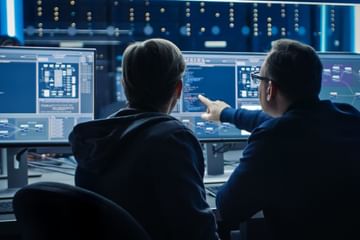 An insider's guide to AI
Hosted by an expert in AI and data science, our workshop introduces you to the dynamic world of this growing technology. You'll find out more about AI's potential and its ever-increasing range of applications, from personalised content on Netflix to autonomous drones and the discovery of new medical treatments.
The workshop will take a practical look at what this could mean for students entering the workforce over the next few years, the opportunities across a wide range of careers and the skills that could help them stand out from the crowd.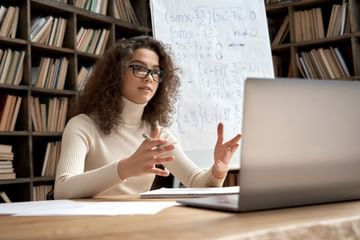 Exclusive Access to an AI professional
The last 30 minutes of our workshop will be an open discussion with our AI expert. You'll have a unique opportunity to ask individual questions about their personal experiences of working with AI, and get advice on encouraging and preparing students for careers in the field.
/

Workshop timetable
16:00

Welcome

Meet your instructor and get an overview of the workshop content.

16:05

Introducing Skills Gap

Learn more about Skills Gap, our vision and core purpose, and the programmes we'll be running over the next few months.

16:15

AI Overview

An introduction to AI and its broad range of applications including personalisation, content generation and predictive analytics.

16:25

Accelerating Technologies

Discover why AI and related information technologies are gaining importance and the factors driving their widespread adoption across all industries.

16:35

Careers and skills for the future of work

Explore the roles and job opportunities created by rapidly emerging technologies and the key skills young people need to develop.

16:50

Application of AI

Discover how AI is being applied to specific industries with a focus on AI in Engineering.

17:00

Q&A

Talk to our AI expert – a chance to ask further questions and gain valuable insights and inspiration.
/

Requirements
Laptop or desktop on Windows 10 or Mac OS 10.11 (or later) with at least 8GB of RAM
A stable internet connection supporting video conferencing and screen sharing
Access to Zoom for video conferencing
/

Upcoming workshops

There are no workshop dates currently scheduled.
/

Frequently asked questions
We are a careers accelerator, running short tech workshops for 15-19-year-olds. Taught by passionate industry experts, our programmes give students the insight and practical tech skills required by companies in finance, science, engineering and many other sectors.
The workshop is specifically designed for teachers keen to learn more about AI, its current and future applications, and it's significance both for students and educators.
You will need a stable internet connection capable of supporting video conferencing. We recommend using a wired ethernet connection with a download speed of at least 4Mbps and an upload speed at least 1Mbps (preferably 3.8Mbps).
Essential Hardware
You will need a PC or Mac (laptop or desktop) which has at least 8GB of RAM and runs Windows 10 or Mac OS 10.11 or later.

Essential Software
You will need Zoom. If you have not used it before, you can create a free account and download the app for your phone, tablet or computer.
We will send you a Zoom link via email shortly before it starts.
If you have not been able to find out what you need from the information on this page, please email our friendly team at hello@skillsgap.tech
/

Find your future in tech

Our Careers Guide lifts the lid on what employers are looking for. We explore how to build a balanced skills profile that blends qualifications, tech know-how, emotional intelligence and a growth mindset – to give you a competitive advantage.