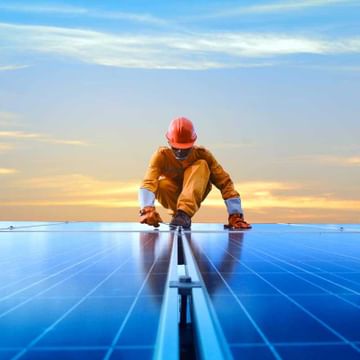 Engineering
AI in Green Engineering
Be inspired: take your first steps towards a bright career and a better world

Susie Naybour
Civil Engineer and Data Scientist at ONYX InSight
Secure your place
Reimagine the future of engineering with a cutting-edge model for a dynamic career and a greener planet
In the race to achieve a net zero world and protect our planet, we urgently need practical ways to reduce our carbon footprint and ensure sustainability across construction, travel, manufacturing and energy generation. Enter engineering's latest super tool: Artificial Intelligence. AI is already helping engineers to plan greener cities, evolve sustainable supply chains, design sustainable buildings and develop precision agriculture. IBM has invested in AI based weather forecasting, making their predictions 30% more accurate, and Google uses an AI model to reduce the energy load and cooling costs of its power-hungry data centres. From solar impulse planes to solar roads, and recycling robots to super trees, the power of AI in engineering will be instrumental in our fight to slow climate change.

With the growing urgency for technologies that reduce carbon footprints, there is an increasing demand for engineers whose knowledge of AI and machine learning skills can add value. Industries are looking for problem-solvers ready to take on the ultimate challenge of saving our planet. The stakes are high and the opportunities immense.

Our workshop provides a fascinating insight into current and future applications of AI in green engineering and the tremendous opportunities for engineers with AI skills in this rapidly growing and vitally important field.
Elite Instruction
Get an expert, insider's guide to the world of engineering today
Engineering Insights
Discover the AI trends shaping the future of green engineering
Expert Guidance
Learn how AI is opening up new potential in the different engineering disciplines
Hands-On Learning
Get practical experience of using an AI algorithm to predict windfarm output
Insider Knowledge
Gain first-hand insight into an exciting range of green engineering careers
Executive Career Coaching
Pick up career tips and advice from AI and green engineering experts
Valuable Connections
Build a network of current and future engineering professionals
Get ahead of the curve
Give your university applications and career pathway a competitive edge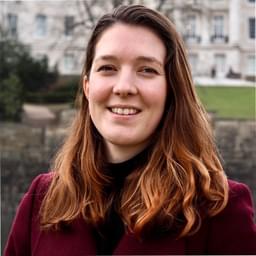 Meet our guest expert
Susie Naybour
Civil Engineer and Data Scientist at ONYX InSight
Susie has a first-class degree in Mathematical Physics from the University of Nottingham where she also studied for a PhD in Civil Engineering. As a data scientist with ONYX InSight, a global renewable technology business, her work focuses on developing algorithms and software to improve wind farm production and reliability. She is an expert in machine learning techniques, and is fluent in multiple coding languages.
Fully certified to help you stand out from the crowd and boost your CV
/

What to expect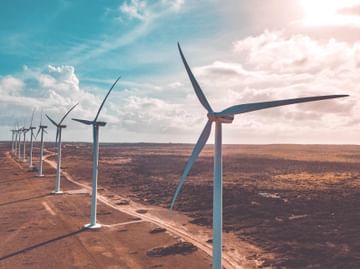 Explore the world of green engineering
Hosted by an engineering expert, the workshop offers an introduction to AI and its rapidly increasing use in green engineering today, from designing flood risk prevention to predicting the structural health of buildings and reducing Urban Heat Island effect. Explore key algorithms and follow the pipeline from raw data to a full engineering solution. You'll look at different green engineering roles and get practical guidance on how to develop AI skills for your future career.
Hands-on practical learning
During the workshop you will get first-hand experience of using Python. You'll create a machine learning algorithm to predict whether a windfarm will produce enough power for a local city, based on projected wind speeds and changing weather forecasts. The practical is intended to develop a deeper understanding of how machine learning can be applied to predict and improve renewable energy output.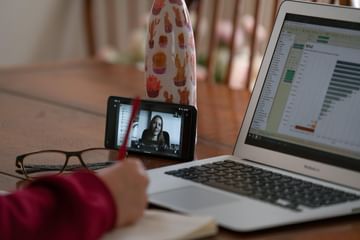 Exclusive access to industry professionals
Our guest professionals will share their experiences of working across different green engineering projects and discuss the transformative role that AI is playing in their field and assess its future potential. They will also answer individual questions and offer valuable insights to help you progress on your future career path.
/

Workshop timetable
13.30

Welcome

Meet your instructor and get a brief overview of the day's activities.

13.40

Introduction to Green Engineering

Get an overview of the main engineering sectors with a focus on green engineering, it's potential and why it's important.

14.00

AI and Machine Learning

An introduction to the history of AI – discover some of its most exciting applications and explore the main machine learning algorithms

14.20

AI in Green Engineering

Learn how AI can be applied to green engineering to help combat the climate crisis, from maximising renewable energy output to improving the energy efficiency of buildings and planning cities for net zero status.

14.40

Build your practical skills

Get practical experience deploying machine learning algorithms to predict whether a wind farm will produce enough energy to power a local city.

15.40

Getting to net zero

Explore some of the issues involved in transitioning to green engineering and how the challenges of achieving net zero could be overcome

16.00

Green Engineering Careers

Learn more about different green engineering roles and the exciting opportunities in the sector.
/

Requirements
A PC or Mac (laptop or desktop)
Zoom to access the workshop
A stable internet connection
/

Frequently asked questions
Skills Gap is a not-for-profit careers accelerator that runs insightful workshops for young people to give them a competitive edge in their future studies and career. We offer a range of intensive workshops designed specifically for 15-19-year-olds and delivered to small groups by experienced industry experts.
The workshop is specifically designed for students aged 15 to 19 who are looking for a career in green engineering and want to understand more about how AI is influencing the industry and the specific tech skills required for different roles. It aims to give you a head start before you begin university or take any other route into the sector.
Not at all. The workshop has been created with beginners in mind, and is designed to give you an introduction to green engineering with a specific focus on AI, machine learning skills and their future potential.
Essential hardware
You will need a PC or Mac (laptop or desktop) which has at least 8GB of RAM and runs Windows 10 or Mac OS 10.11 or later.

Essential software
You will need Zoom. If you have not used it before, you can create a free account and download the app for your phone, tablet or computer.
Recommended
Google Chrome, Firefox and Safari provide the best tested web browsers for the Google Colab activities.

We also highly recommend a second screen. This will allow you to quickly and easily move between the various activities.
(While a tablet, smartphone or Chromebook can be used as a second screen, we don't recommend you use these on their own for the workshop.)
We use Zoom. It is free, easy, allows everyone to be on camera and mic at the same time, and features intuitive presentation and learning tools, like collaborative white boards and break-out rooms for group work.
You also need a Google account to upload the files into your online workspace for the practical session.
You will need a stable internet connection capable of supporting video conferencing. We recommend using a wired ethernet connection with a download speed of at least 4Mbps and an upload speed at least 1Mbps (preferably 3.8Mbps).
We will send you a Zoom link via email shortly before it starts.
If you have not been able to find out what you need from the information on this page, please email our friendly team at hello@skillsgap.tech.
/

Explore our upcoming workshops
/

Find your future in tech

Our Careers Guide lifts the lid on what employers are looking for. We explore how to build a balanced skills profile that blends qualifications, tech know-how, emotional intelligence and a growth mindset – to give you a competitive advantage.