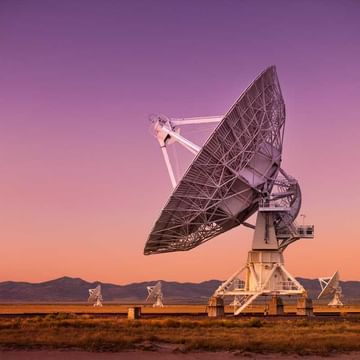 Science
AI in Astrophysics
Harness the power of deep learning to ignite your successful career in space science

Joe Sims
Astrophysics Masters Graduate, AI PhD student, Leeds University
Secure your place
Finding the answers to life, the universe and everything. Discover the technology powering our understanding of the universe.
There's no field of study so infinite or inspiring as the universe. Which means the challenge for astrophysics is immense: to answer the most fundamental questions about our world's creation, evolution and workings, to understand the stars and look for signs of life beyond our own planet.
With ever larger telescopes surveying deeper into space, scientists are facing an explosion in the quantity and complexity of the data captured. Telescopes are soon to be launched with the ability to observe galaxies formed just after the big bang, and with cameras 100 times more powerful than the Hubble Space Telescope.
Artificial Intelligence offers the capabilities to make sense of this fast-accumulating data. By enabling scientists to rapidly sift and analyse vast collections of images it can help identify objects worth closer study – supernovae, pulsars and quasars – and allow us to classify stars, label galaxies and evaluate redshifts. And surely the most exciting applications and discoveries still lie ahead.
Our workshop provides a fascinating insight into current and future applications of AI in astrophysics and the potential for using your maths and science skills in this compelling field.
Elite Instruction
Get an expert, insider guide to the brave new world of AI in astrophysics
Scientific Insights
Discover the trends shaping the future of astrophysics, from deep learning to neural networks
Guidance
Learn how machine learning algorithms can be applied across a diverse range of disciplines
Practical Learning
Benefit from hands-on tasks and real-life space science scenarios
Insider Advice
Gain first-hand insight into an exciting range of careers in AI and astrophysics
Executive Career Coaching
Pick up career tips and advice from AI experts
Valuable Contacts
Build a network of current and future science professionals
Get Ahead of the Curve
Give your university applications and career pathway a competitive edge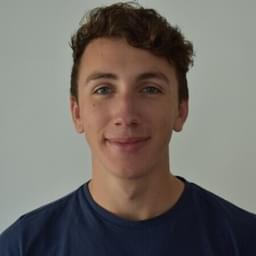 Meet our guest expert
Joe Sims
Astrophysics Masters Graduate, AI PhD student, Leeds University
Joe has a first-class degree in Astrophysics from the University of Liverpool, scoring the highest degree result in his year. He has since worked at the Astrophysics Research Institute and is currently studying for a PhD at the Centre for Doctoral Training for AI in Cancer Diagnosis and Care at the University of Leeds. Joe is passionate about the potential of AI across all areas of science, and co-hosts a blog to explain deep learning methods in a fun and understandable way for people with no coding knowledge.
Fully certified to help you stand out from the crowd and boost your CV
/

What to expect
Explore the world of AI in Astrophysics
Hosted by an astrophysics expert, our workshop offers a beginner's guide to astrophysics and the advances heralded by AI. Discover more about current and forthcoming big telescopes and examine how scientists are grappling with an exponential accumulation of data.
Take a closer look at the concepts of deep learning and neural networks and their use in solving key problems in space science, plus explore future applications of AI in astrophysics and other fields.
Practical, hands-on learning
The workshop gives you first-hand experience of using a neural network to classify stars, using their magnitude, temperature, radius and colour to identify them as types of dwarfs, main sequence stars, supergiants and hypergiants.
You'll then create your own deep learning auto-encoder to clean up noisy images of galaxies to reveal a clearer view of their make-up. Develop a deeper understanding of the different types of data found in astronomy and how AI can be used to make breakthroughs in astrophysics.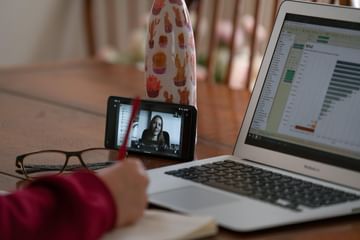 Exclusive access to astrophysics professionals
Our guest experts will share their experience of using AI to undertake cutting-edge research in astrophysics and discuss the scope of its future potential. They'll answer your questions and offer valuable insights to help you progress in your chosen area of study or career path.
/

Workshop timetable
13.30

Welcome

Meet your instructor and get a brief overview of the day's activities.

13.40

AI and Astrophysics today

Get an overview of the current AI environment and its potential for ground-breaking advances in astrophysics as a new generation of giant telescopes create vast quantities of data for analysis.

14.00

Astrophysics Overview

Take a closer look at astrophysics, current areas of work and research and key concepts such as dark matter and its meaning for the universe.

14.30

Introduction to Deep Learning

Explore the concept of deep learning to discover how neural networks learn from raw input values to classify stars and galaxy types, and examine some of its current applications across astrophysics.

15.00

Develop hands-on skills

Get practical experience using a neural network to classify stars using magnitude, temperature, radius and colour.

16.00

Panel Q&A

Ask our experts – get the answers and advice you need to get ahead.
/

Requirements
A PC or Mac (laptop or desktop)
Zoom to access the workshop
A stable internet connection
/

Upcoming workshops

There are no workshop dates currently scheduled.
/

Frequently asked questions
We are a careers accelerator, running short tech workshops for 15-19 year-olds. Taught by passionate industry experts, our programmes give you the insight and practical tech skills required by companies in finance, science, engineering and many other sectors.
The workshop is specifically designed for students aged 15 to 19 who have an interest in astrophysics or AI, and who want an insight into the skills needed for academic study in the area, roles in the industry and the different career paths available. It aims to give you a head start before you begin university or take any other route into the sector.
Not at all. The workshop has been created with beginners in mind, and has been designed to give you an overview of astrophysics and the exciting current and future applications of AI.
We use Zoom. It is free, easy, allows everyone to be on camera and mic at the same time, and features intuitive presentation and learning tools, like collaborative white boards and break-out rooms for group work.
You also need a Google account to upload the files into your online workspace for the practical session.
You will need a stable internet connection capable of supporting video conferencing. We recommend using a wired ethernet connection with a download speed of at least 4Mbps and an upload speed at least 1Mbps (preferably 3.8Mbps).
Essential hardware
You will need a PC or Mac (laptop or desktop) which has at least 8GB of RAM and runs Windows 10 or Mac OS 10.11 or later.

Essential software
You will need Zoom. If you have not used it before, you can create a free account and download the app for your phone, tablet or computer.
Recommended
Google Chrome, Firefox and Safari provide the best tested web browsers for the Google Colab activities.

We also highly recommend a second screen. This will allow you to quickly and easily move between the various activities.
(While a tablet, smartphone or Chromebook can be used as a second screen, we don't recommend you use these on their own for the workshop.)
We will send you a Zoom link via email shortly before it starts.
If you have not been able to find out what you need from the information on this page, please email our friendly team at hello@skillsgap.tech.
/

Explore our upcoming workshops
/

Find your future in tech

Our Careers Guide lifts the lid on what employers are looking for. We explore how to build a balanced skills profile that blends qualifications, tech know-how, emotional intelligence and a growth mindset – to give you a competitive advantage.