Meet Our Graduates: Jude Solomons
Jude's ambition is to become a stockbroker. But not the kind you see in films with men in grey suits frantically waving pieces of paper to buy or sell shares.
After taking a Skills Gap course in data analytics this autumn, he is exploring the possibilities of working on the rapidly growing data side of stockbroking.
"The world is changing because of data," says Jude. "After doing the course, I called up a stockbroking firm where I have done work experience and they were really interested to hear about it. They told me they have a data analysis side."
"The course has opened up new points of view to me and given me a passion for something I never knew anything about before."
Stockbroking is not an exception. Technology and data analysis are changing the way work is done in virtually every career, as we found when putting together our careers guide.

"The world is changing because of data"
Jude, 17, is about to start his last year at Oakham School before applying to Loughborough University to study Politics and Economics.
He had had big plans for the past summer - doing work experience in finance and earning some cash in his part-time jobs as a lifeguard and sailing instructor. But COVID-19 meant his placement fell through and the pool and lake had to close.
"I found it really annoying because I'm the kind of person who hates sitting at home and wasting time," says Jude. "I really wanted to do something."
Instead, he used some of his free time to take an intensive online Skills Gap. "It meant I was able to stay productive this summer," he says.
The course was also a way for Jude to meet new people over the summer, despite in-person events and activities being impossible due to social distancing requirements.
"I liked the teaching style where we broke out into small groups and collaborated on a project," he says. "It was a good way to meet other people, and we had conversations as a group over Slack."
Data analytics is changing everything - even sailing
The course even gave Jude new insights into his main hobby of sailing. "There is a lot of science in sailing and data could link into that," he said. "You could analyse sailors, boats, sailing conditions and other factors."
While Jude has big ambitions for his future career, in the shorter term he is most looking forward to getting back to sailing after COVID-19 restricted his access to the water.
"I find sailing a way to get away from everything and use up some energy - it can be exhausting" he says.
But does he ever fall off his boat?
"Yeah you do fall in, especially if it is very windy or something happens," he says.
"It can be cold sometimes!"

Want to find out more about data analytics? Visit our course pages.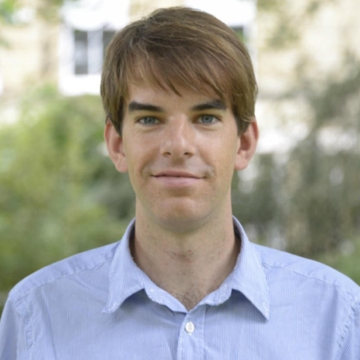 Matt Pickles
Freelance Writer
21 September 2020